Now that we've been in the new place for over a year, I've been making a lot of progress on downsizing; the idea is to have more items leave the condo than come in. Since this place is more permanent (I certainly don't plan to retire here, but I am not obsessing about my "next" place either), I have been parting with things that I "might" have needed to schlep to the next apartment, "just in case," and focusing on organizational systems, furniture, and the like that serves a specific purpose. Things that were great for old haunts don't make the cut for the new place.
One example is the plethora of curtains we bought for our bungalow in Kansas. When that place was built in the 30's, numerous small windows were the way to go, and as such we had to buy a lot of curtains to dress them all. Between the guest room, bedroom, living room, and dining room we amassed twelve pairs of curtains. And that wasn't even all the windows (some went bare). Our current place has four windows. Four. So, that's one concrete example of super practical downsizing now that I know what I really need. I sold some online and donated the others to Salvation Army, and now I have a dresser drawer's worth of space free! Just from finally purging curtains! I think that window dressings can be a semi-expensive furnishing that's worth dragging from rental to rental until finally reaching a point which seems more stable.
Another example is kitchen stuff. Before I quit my gig at SLT I invested in a few pieces as far as pots and pans go. Three great items in, five good items out (to friends or goodwill). I followed the same rationale that I did when I upgraded my kitchen knives (which I'm still totally satisfied with, btw). If I invest in long-term and higher-quality pieces, I won't have to shop for those items again for ten, twenty years, or in the case of stainless steel pots… maybe ever again! It's a nice feeling. The employee discount helped, for sure, but I still recommend buying the best that is available and practical at the time, even if saving up for a little while is necessary.
Furniture is next. After a year we know what works and what doesn't in this place. It's an area where the pinch is really evident though– swapping out a sofa is not the same as purging a closet or investing in a stainless steel saucepan. I am in the market for a sofa and a bed frame, and probably new bedside tables, too. But I am going to play the long game and make sure we get the right item at the right price, instead of looking for the instant (cheap) fix.
Overall, I honestly hope this isn't coming off as braggy or materialistic, I have just been reflecting on quality over quantity. Long-term investments slowly replacing short-term solutions. In addition to that– getting things repaired instead of replaced. I took some of my sandals to the shoe repair and two weeks and $12 later, they are better than new. I feel this is how generations before us filled our homes, and many people now see items as so cheap and disposable that the idea of "made for life" is largely forgotten.
Next on my list to pare down is media. Do you have any tips or personal rules when it comes to getting rid of books, cds, dvds? I hate to admit it, because I really love books, but having a Kindle has helped a lot. Please leave any advice in the comments! 
My fifth anniversary is coming up this weekend, so weirdly I have been thinking about dishes. I've been getting really into browsing Etsy in every moment of spare time. If I were getting married today, I would set up an Etsy registry and sign up for a bunch of pretty vintage china.
When Doug and I got married we registered for Crate and Barrel Aspen dinnerware, and I am still so happy with it. No chips, breaks, or anything in the past five years (knock on wood). We use it for two to three meals daily and have used it when large groups come over instead of buying (and subsequently throwing out) paper partyware. If something were to break I like knowing that they still carry it. I didn't register for "fancy" china because honestly I wasn't, and still really am not, a "fine china" person. But I was so ill-informed. I didn't know all the options out there! Still, I probably wouldn't use it. But… my collector side begs to differ. Now, I just want to have an amazing, colorful, retro, collection to gaze at 24/7.  The struggle!
The good thing is that my white set can mix and match with anything! Especially these patterns which I am totally crushing on.
Villeroy and Bosch, Acapulco ('83-'91)
This is it. This is the one. I am sure of it. Those prices, though! This would be an amazing thing to get pieces of here and there and build up a set over time. Hint, hint; family and friends.  More drool worthy pieces here on Etsy.
Studio Nova, Hi-Fi ('85-'87)
I passed up a set of this at Goodwill a couple of years ago and to this day I regret it! (Stereo would be an OK one too but Hi-Fi has that special something!) Check out more pieces here. This similar pattern is cool too.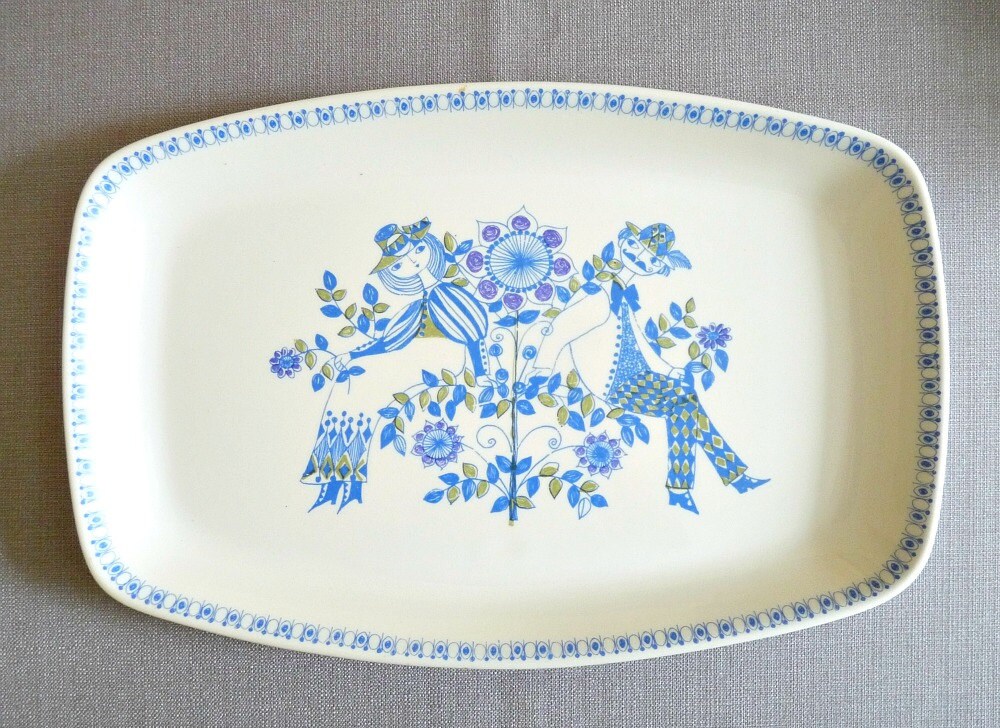 This set is not as bright and vivid as the two patterns above but the cute little people on them get me every time. They are so adorable and I love the Scandinavian flair! Shop Figgjo on Etsy.
Honorable mention: Fiestaware. Every time I dine somewhere that uses Fiestaware I want to go out and buy up a huge mix and match bunch and serve all my food on the bright and fresh colors.
Did you register for fine (or not so fine) china? Are you still in love with your pattern, or has your taste evolved over time? Do you know any patterns I need to check out? Let me know in the comments :)
Last fall I had the privilege of taking a class at my alma mater that focused on social change, and human trafficking (specifically, the eradication of human trafficking). Not so coincidentally, that semester the school launched a crowdfunding campaign to jump start a scholarship program so that survivors of human trafficking could attend our university. Our class got involved and used the results of our efforts to write end-of-semester papers.
I had such a great experience helping launch the crowdfunding campaign, and have watched other crowdfunding campaigns wildly, insanely succeed (or not succeed, which breaks my heart) in the days since my direct involvement.
Today I want to share one that my favorite designer Emily Henderson has announced on her blog– the goal is to rebuild a homeless family shelter. The original shelter burned down but the loss turned into an opportunity as the organization was able to buy a vacant school building and enlarge capacity. The new home will help families get back onto their feet and save them from living in cars or on the street. The kids will perform better in school and the parents will be assisted in job hunting or occupational training.
The goal you'll see on the indiegogo page is 35k, but Henderson writes in her blog post (where she announced the campaign) that they realistically need more like 200k. Considering 200k is below the average home price in Southern California, and the mega-house they are building is 8x the size of a normal family home, the dollar amount seems to make sense.
Anyway, please go over to Emily's post where you can tell she is writing from the heart. I am in love with this plan of hers. I plan to donate… perhaps you will consider donating too!