My fifth anniversary is coming up this weekend, so weirdly I have been thinking about dishes. I've been getting really into browsing Etsy in every moment of spare time. If I were getting married today, I would set up an Etsy registry and sign up for a bunch of pretty vintage china.
When Doug and I got married we registered for Crate and Barrel Aspen dinnerware, and I am still so happy with it. No chips, breaks, or anything in the past five years (knock on wood). We use it for two to three meals daily and have used it when large groups come over instead of buying (and subsequently throwing out) paper partyware. If something were to break I like knowing that they still carry it. I didn't register for "fancy" china because honestly I wasn't, and still really am not, a "fine china" person. But I was so ill-informed. I didn't know all the options out there! Still, I probably wouldn't use it. But… my collector side begs to differ. Now, I just want to have an amazing, colorful, retro, collection to gaze at 24/7.  The struggle!
The good thing is that my white set can mix and match with anything! Especially these patterns which I am totally crushing on.
Villeroy and Bosch, Acapulco ('83-'91)
This is it. This is the one. I am sure of it. Those prices, though! This would be an amazing thing to get pieces of here and there and build up a set over time. Hint, hint; family and friends.  More drool worthy pieces here on Etsy.
Studio Nova, Hi-Fi ('85-'87)
I passed up a set of this at Goodwill a couple of years ago and to this day I regret it! (Stereo would be an OK one too but Hi-Fi has that special something!) Check out more pieces here. This similar pattern is cool too.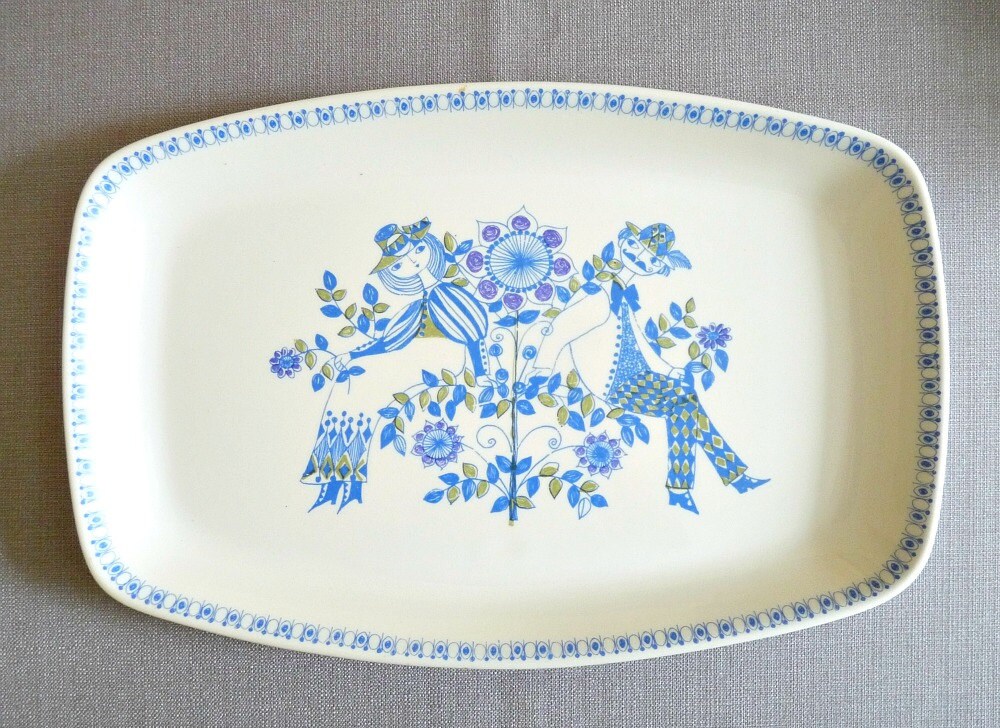 This set is not as bright and vivid as the two patterns above but the cute little people on them get me every time. They are so adorable and I love the Scandinavian flair! Shop Figgjo on Etsy.
Honorable mention: Fiestaware. Every time I dine somewhere that uses Fiestaware I want to go out and buy up a huge mix and match bunch and serve all my food on the bright and fresh colors.
Did you register for fine (or not so fine) china? Are you still in love with your pattern, or has your taste evolved over time? Do you know any patterns I need to check out? Let me know in the comments :)