Great news! We made a facebook group for the Virtual Book Club. We are going to be doing some discussion over there regarding the monthly book and other books that we happen to be reading, too. It's currently a closed group, but if you are interested in joining, let me know and I will be happy to add you.
---
Hey guys! I can't believe November went by so fast. I feel like I just finished writing my response to The Graveyard Book but here we are. We picked something light to read, since as the holiday season gears up, time somehow becomes more scarce. Someday, Someday Maybe (affiliate link) definitely was light. I finished out in about five or six hours, which was nice.
The book is written in the first person. Through the eyes of our heroine, Franny, we get a glimpse of what it may have been like to be a struggling actress in New York city in 1995. The author, Lauren Graham (Gilmore Girls, Parenthood) has a lot of personal experience to draw on, I'm sure.
A really cute thing in the book were these little pages from Franny's day planner. Some weeks were meticulous and full; others were dust and tumbleweeds. It reminded me of my own planner. Another cute thing was the use of the answering machine. I totally remember the days before I had a cell phone and the only way to get important information was to hunt someone down or leave them a message. Sometimes I think it would be really freeing to only check my phone messages (and email) once or twice a day instead of constantly.
Franny has a lot of self-doubt, something that doesn't come in handy for an actress, I'm sure. We all have self-doubt, but we don't all work in industries where the goal is to stand out or face total failure. As a result of these insecure feelings, she makes a bunch of questionable life choices. She picks the sleazy agent over the friendly agent, she picks the superficial and pretentious dude over the nice guy, etc. She tries to derive her strength from others instead of from herself. Her strongest moment of personal growth comes when she turns down a job that (after lots and lots—too much—hemming and hawing) she decides compromises her values. I guess that was the point of the book! Pull your strength from within instead of trying to attach yourself to others that seem successful.
There were a few points in the book that I found pretty meta, particularly the conversation between Dan and Franny about love triangles as a tired trope. I think it was the author's way of winking at us readers, "yeah, love triangles are a bit tired but still cute and compelling, so I'm using one anyway." Franny was a little annoying, but I saw some of myself in her immature, rambling inner monologues. We can't all be perfect. ;)
Actually, Lauren Graham came out with another book this week, Talking As Fast as I Can, which is about herself. It would be interesting to read it and compare her stories of breaking out as an actress to the fictionalized version in Someday, Someday Maybe.
---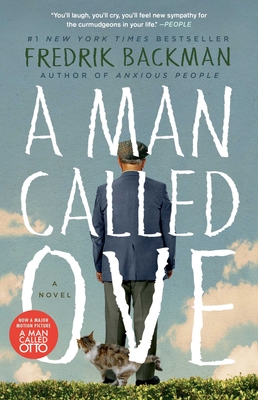 Our final book of 2016 will be A Man Called Ove. It's supposed to be a "feel-good" story and my coworker compared it to the movie Up, which I haven't seen but everyone seems to like. Lately I have been getting into all things Scandinavian so I'm looking forward to reading this (a movie adaptation is coming out, too).
As always, hop over to Libby's blog to read her take on our monthly book (spoiler alert: she didn't like it)! And again, let me know if you want to join our facebook group!